"I am thankful for my family. I'm thankful that we're all safe and there's no one in the world that I'd rather be too hot or too cold with." Jack to his family in Pilgrim Rick.
Jack Pearson is a main character in the first second third and fourth seasons of This is us he is the late husband of Rebecca. In the initial scenes, he's a happy and easy-going husband awaiting triplets with his wife. Jack is an avid Pittsburgh Steelers fan.
He is portrayed by Milo Ventimiglia.
Life
Season 1
It is revealed initially that Jack was the spouse who most wanted children. He talked a reluctant Rebecca into the idea of having children. Later in the season, Jack's alcoholism re-awakens. This causes friction in his marriage with Rebecca, who spends most of her nights pursuing a dream she had lost while raising their family.
Jack's daughter, Kate, watches Steelers games with his urn to carry on tradition.
Season 2
A Father's AdviceThe first episode starts with Jack and Rebecca working through marital issues.The couple has a discussion with their children, in a diner, about them needing time apart. Kate doesn't react to this news well, and Kevin tries to comfort her. Jack asks Randall to give he and Rebecca time alone. Jack reaches for Rebecca's hand, but she flinches and says that she needs time, and "Soon. We'll talk soon." Later, Jack is seen at Miguel's house. Miguel tries to make a bed for Jack since this living arrangement will be more permanent, but Jack says, "Hey! No sheets! Look... sheets are for long-term guests. I'm not a long-term guest."That night, Jack tries to make amends by getting stable performance gig for Rebecca. Jack is shot down and returns Miguel's house. Rebecca suddenly knocks on the door and says she is willing to work through their problems because being apart "is not us." Jack rejects this notion and admits that he is a functioning alcoholic and will need to work through his issues before he can return home. He closes the door. Rebecca knocks again and asks Jack to get in the car and Jack is relieved. Rebecca starts to drive home, and says that "everything is going to be okay." In the next shot, Jack is no longer in the car. Jack's belongings are seen in a plastic bag, and Kate and Randall are seen sobbing. Rebecca arrives, to see her home, burnt.
A Manny-Splendored ThingThe episode picks up with Rebecca asking Jack to, once again, try and kick his alcoholism. There's a flashback to the first time Rebecca asked him this question. The rest of Jack's journey in the episode is at this period. Jack is seen getting called into work, and then at work pouring alcohol in his coffee. He is called into his boss' office and is reprimanded for misfiling the paperwork, Jack knows the mistake happened because he was drunk. Jack tries to motivate himself to get sober- He tosses the alcohol and tries to attend an alcoholic's anonymous meeting. The meeting didn't really motivate him so he goes to see Kate at school, he calls her into his car and talks to her about her upcoming performance. Feeling hopeless, he stumbles into a boxing studio, grabs gloves, and starts whacking away. You see flashbacks to Jack when he was younger, looking at his father drink and Jack, during his time in the Army, in battle. Jack conquers his alcohol problem with each punch. Jack then runs into the talent show that Kate is performing in. Rebecca is worried because he is late. Jack looks at her and says, "I took care of it."Jack is then seen in the same state he was at the beginning of the episode, trying to tackle his alcohol issue for the second time. He tells Rebecca that he is going to need help this time. Jack, then, goes into Kate's room to talk to her. Jack tells her that she needs to be nicer to Rebecca and that he has an alcohol addiction. Jack is upset that he has disappointed Kate, and this revelation makes their relationship grow stronger. In the last scene, Rebecca is seen driving Jack to an alcoholic's anonymous meeting.
Season 3
Season 4
Death
On the night of the 1998 Super Bowl, the Pearson's house burns down due to a fire started by their crockpot. Jack gets his entire family out of the house but runs back to save Kate's dog. He is taken to the hospital where he goes into cardiac arrest after inhaling too much smoke.
Relationships
Jack meets Rebecca in a bar. He was about to steal the bar owner when he heard her sing (Moonshadow).
Jack and Rebecca married at City Hall. He introduced Rebecca to football and the Steelers prior to the triplets' birth. Prior to the birth of their children, Jack and Rebecca attended tailgates and sporting events at local watering hole, Froggy's.
Jack called Kate "Katie Girl". He couldn't stand seeing her sad and often bought her ice cream to comfort her.
Jack helped Randall with his anxiety as a child by doing breathing exercises with him. Later, he ran with him.
Jack and Miguel were best friends and worked together for many years.
Jack and Nicky had a difficult childhood. Jack did all he could to protect his brother. As adults, he didn't hesitate to enlist to join Nicky in the Vietnam War. However, Nicky had changed and after he accidently killed a child, Jack no longer wants to have any contact with him. Years after coming home from the war, Jack visits Nicky and shows him a picture of his family.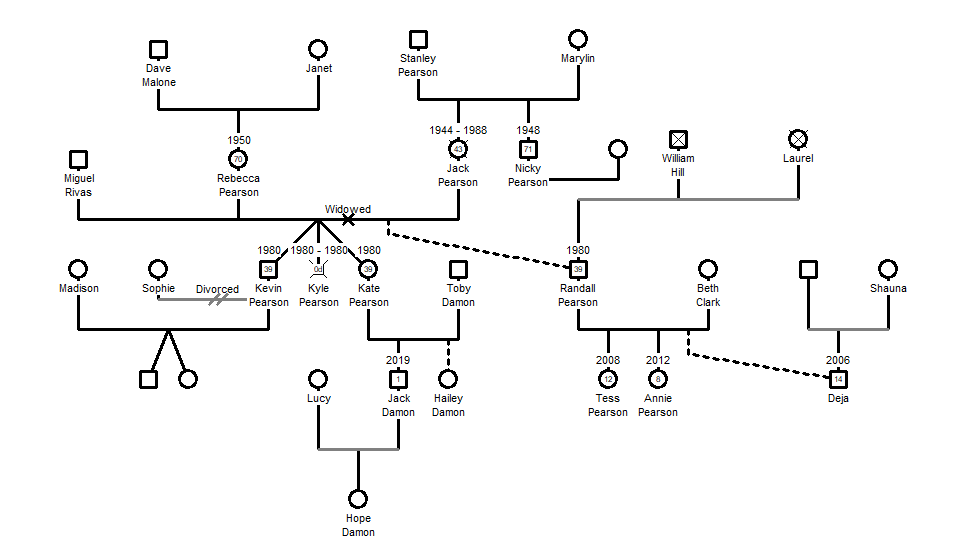 Appearances
Season 1: All episodes
Season 2: All episodes
Season 3: All episodes except Our Little Island Girl and The Waiting Room
Quotes
"You've asked me a question before, you wonder what I love about you now, So I'm gonna start with the obvious. I love the mother that you are. I love that you are still the most beautiful woman in any room and that you laugh with your entire face. I love that you dance funny, not sexy, which makes it even sexier, but most of all, I love that you are still the same woman who all those years ago ran out of a blind date because she simply had to sing. You're not just my great love story, Rebecca, you are my big break. And our love story? I know it may not feel like it right now, baby, but I promise you, it's just getting started." Jack Pearson
"Sometimes they'll make good decisions. Sometimes bad decisions. And every once in a while, they're gonna do something that's gonna knock us off our feet. Something that exceeds even our wildest dreams. Our kids are gonna be fine. Me? I can't go back to who I was before I met you." Jack Pearson
"The kids are gonna be fine. We've shown them a healthy marriage. This is just gonna be a blip on their radar years from now. We're their parents, Bec, but at the end of the day, what happens to them, how they turn out, it's bigger than us." Jack Pearson
"Next week, we're going back to that bar and we're going to get our money back. One way or another. I'm going to take the life I was supposed to have instead of waiting for it to come and find me." Jack Pearson
"I got this at a very hopeless time in my life. Someone very special gave it to me back in Vietnam. It's a Buddhist symbol of purpose. I was feeling very lost when I got that. But I put it on and I moved forward. And you know when I was wearing it? The day you were born. The moment you came out, my number one. And when I held you, for the first time, right here in this hospital, it hit me like a bolt of lightning. You were my purpose, Kevin. And I swear to you, son, I swear to you, you will find yours." Jack Perason
"You got to own your choices, boys. Choose them fully and don't look back." Jack Pearson
"You're gonna find your balance, Randall. And then you're gonna lose it, and then you're gonna find it again. That's the ride. And you're gonna make a lot of choices, and I'm probably not gonna be around for all of them. The choices you make are gonna be spectacular, because you are spectacular, son." Jack Pearson
"You're not just my great love story, Rebecca. You were my big break. And our love story, I know it may not feel like it right now, but baby, I promise you, it's just getting started." Jack Pearson
Trivia
The Big Three were born on the same day as Jack.
Jack was dead in the 'modern-day' timeline ever since the series was created.The producers commented, "Having Jack be gone in the present day gives so much to the [adult] kids [to play with]."
Gallery
This gallery is in order of episodes - not chronologically