"Well, now I feel like a bitch."
- Beth Pearson, The Big Three
Bethany "Beth" Pearson (née Clark) is the wife of Randall with whom she is raising daughters Tess, Annie, and Deja. She is portrayed by Susan Kelechi Watson.
Beth is beautiful, smart, and funny. She is a dependable wife and mother that Randall calls his "Rock." When Randall learns William, his biological father, is dying, the family takes him in. Beth is a confidante and caretaker to William (played by Ron Cephas Jones) in his final months.
She experiences a blow to her confidence when she loses the job she had for 12 years. At around this same time, Randall announces that he is running for office in William's old home district.
She interviews for similar positions, but she gets teary-eyed as she tries to discuss her background. She does some soul-searching. Her mother calls and says she's bruised her hip, so Beth and cousin Zoe (played by Melanie Liburd.) goes to see her mother in DC. On this trip, she has a tough confrontation with her mother, and a tearful admission to her father's old chair in the living room. She realizes she needs to get back to her childhood dreams of being a dancer. She needs to reclaim the person her late father called "our little island girl, who danced before she could walk."
Beth, originally Bethany Clarke, studied ballet at a gifted school. Young Bethany is played by Akira Akbar. It costs a lot and there are four other children in their house, but policeman Abe Clarke (played by Carl Lumbly) and high school principal Carol (played by Phylicia Rashad) make it work to support their daughter's dream.
Fast forward to Bethany's late teens (teen Bethany is played by Rachel Hilson.) Competition at school has increased. Her father, Abe Clarke, reveals he has lung cancer and dies not long after. Carol had a tough talk with Bethany after his passing. She told Bethany to she had to be practical and give up her dance dreams. She couldn't afford her daughter starving in NYC trying to make it at something that just wasn't meant to be. She would go to a regular high school to graduate from, and find a college to go to. While checking out colleges, Bethany fills out a nametag. The first one she writes says "Bethany." Then she crumples it up and writes a new one that says "Beth." As she turns to meet other people, she has a chance encounter with 17 year old Randall Pearson (played by Niles Fitch), who is obviously in love at first sight.
Relationships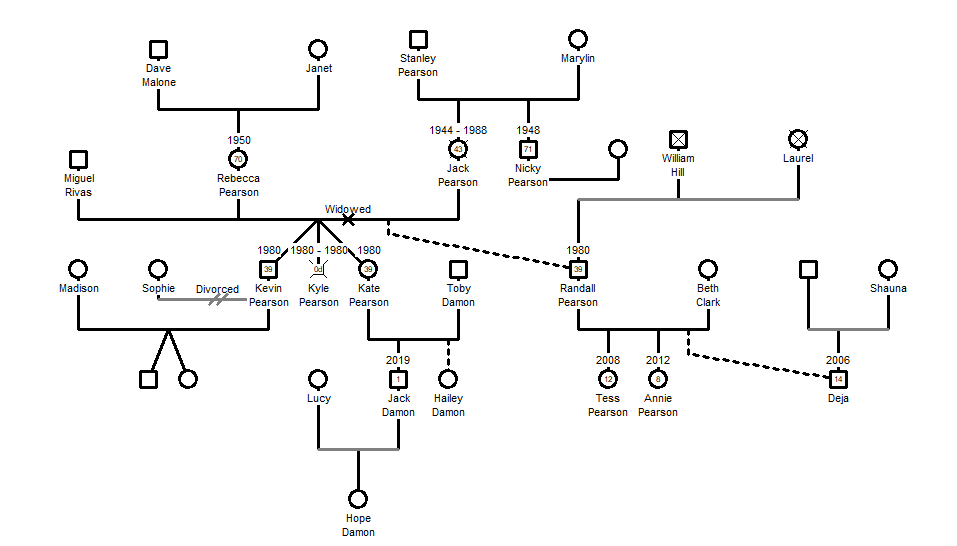 Quotes
"This was his favorite spot. I've been coming here almost every day, trying to figure out how I can give you what you want. Trying to wrap my head around it. And I know you have this notion in your mind, this notion of a perfect little newborn that we could shape and mold from scratch like Play-Doh, but Randall, we're really gonna do this, I think this is the way. Your parents did something wonderful for you. And because of that, you had a wonderful life. But things could have been very different for you. That could have been you. If you really want to do this, if you really want to risk our perfectly imperfect life for something, let's go all the way. Let's take in an older kid who no one else in the whole damn world is gonna help."
Beth Pearson ( A Manny-Splendored Thing)
Trivia
Beth was born to an African American mother and a Jamaican American father. Her father died when she wasn't prepared for it.
She has three older siblings, Lisa, Isaiah and Renée. She also considers her cousin Zoe as a younger sister.
Gallery